Botletics™ SIM7000 LTE CAT-M1/NB-IoT + GPS Shield Kit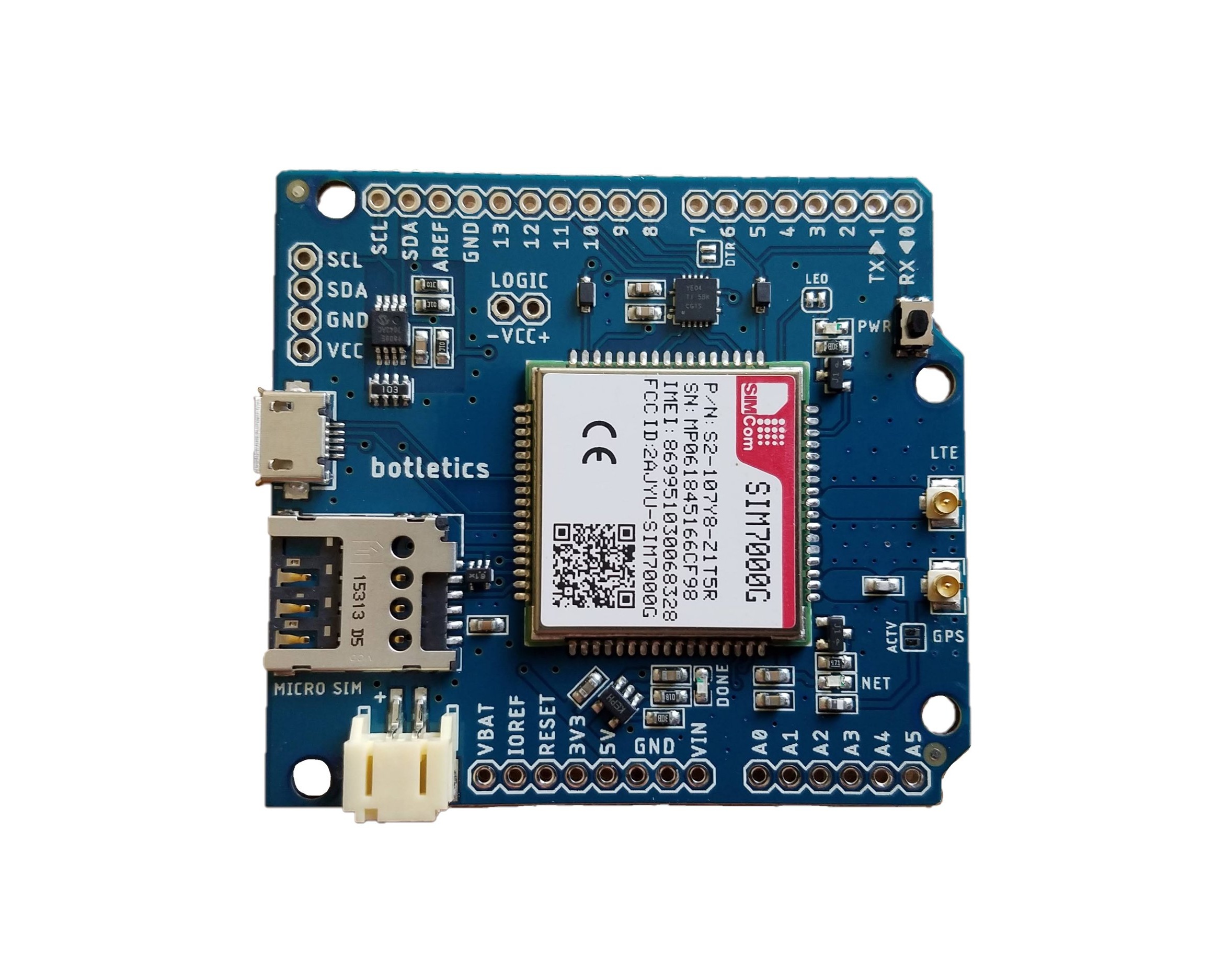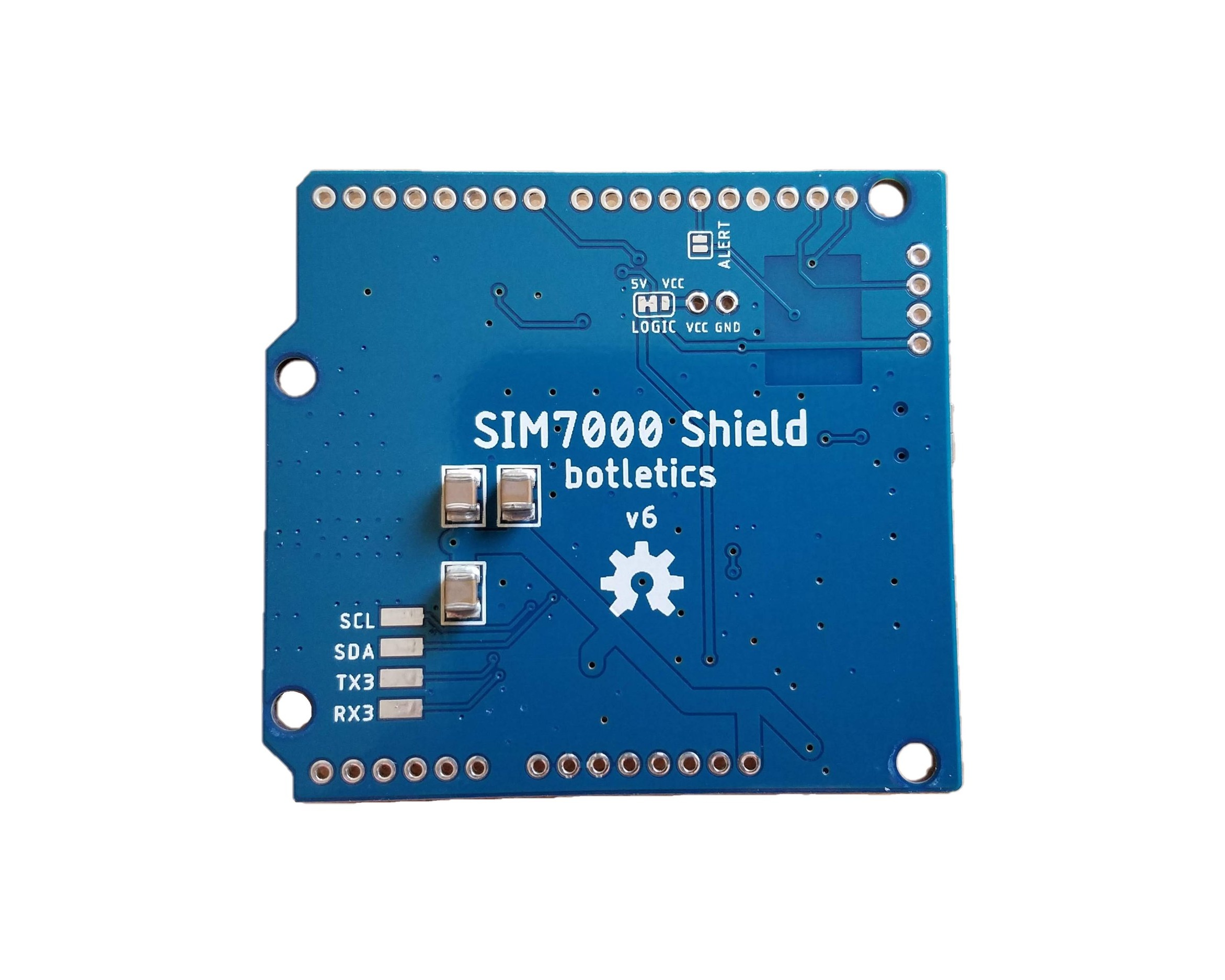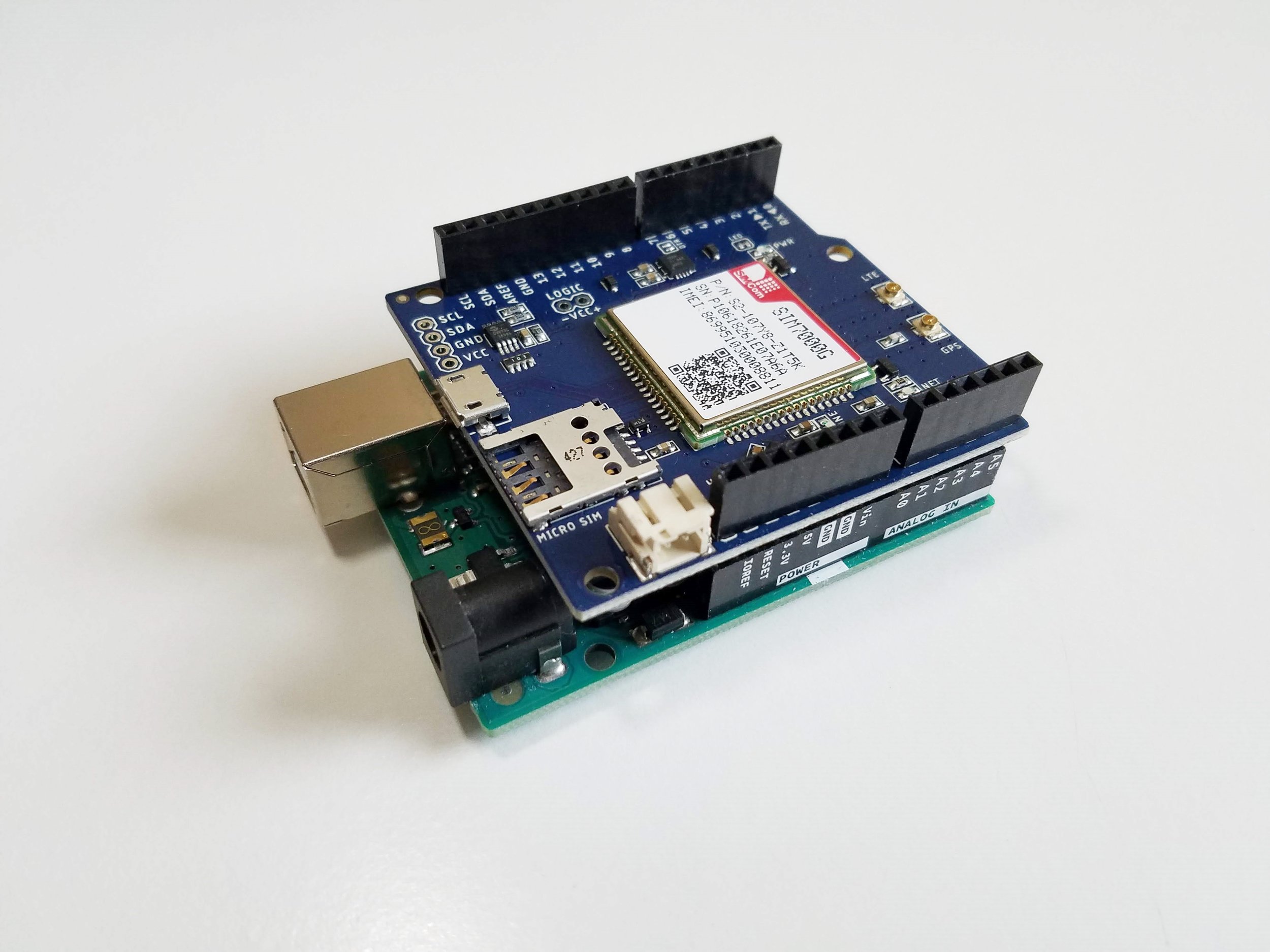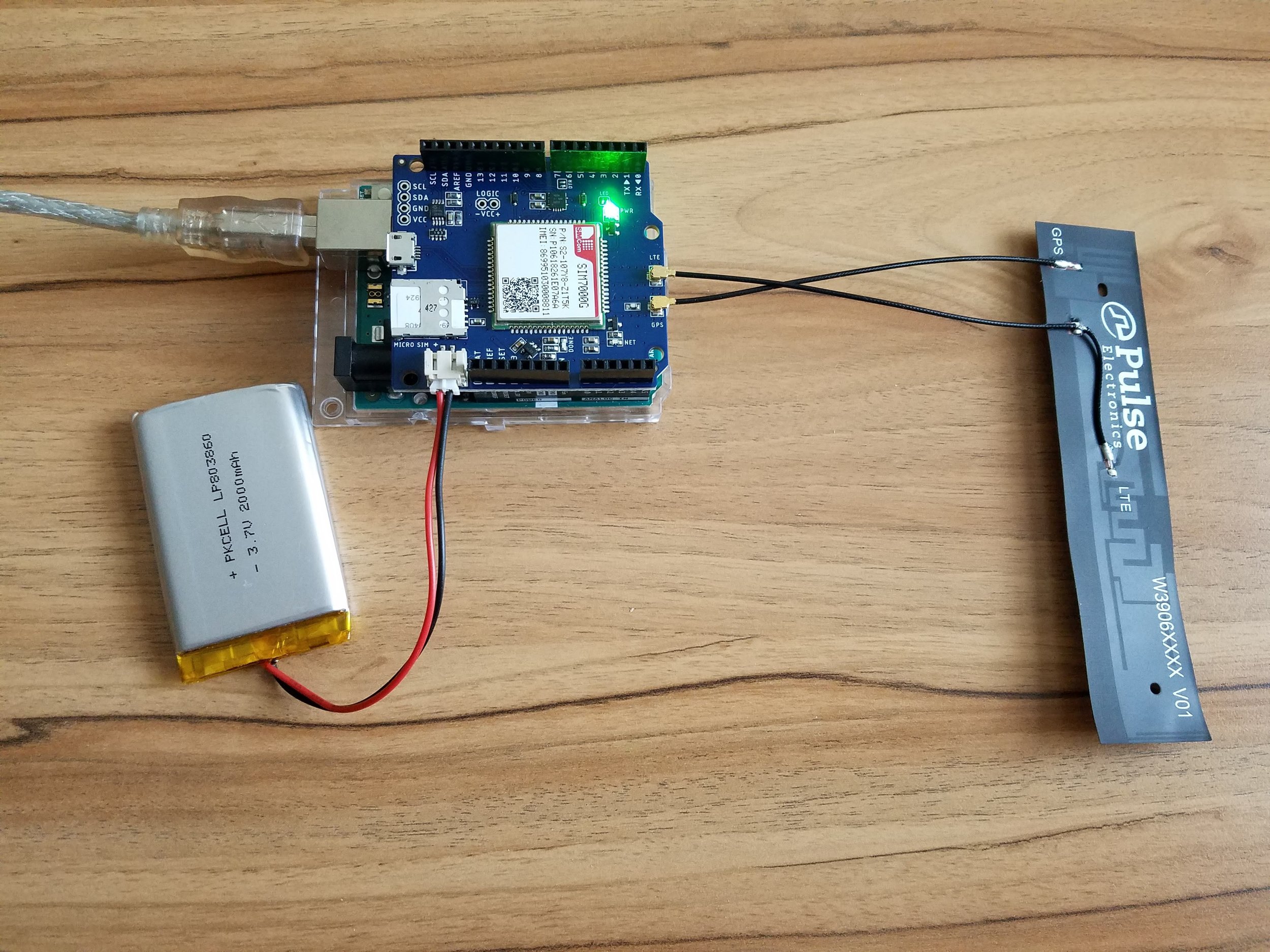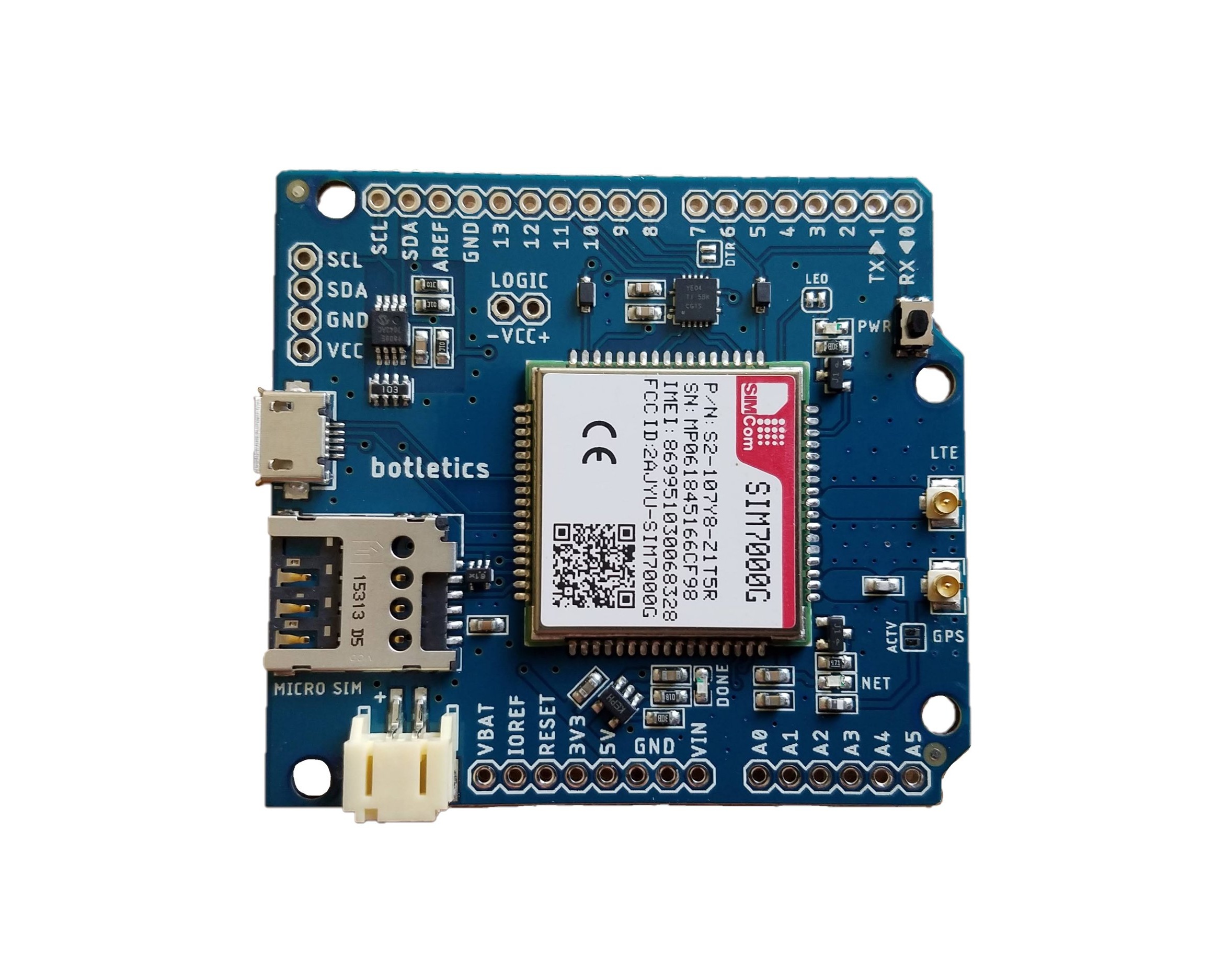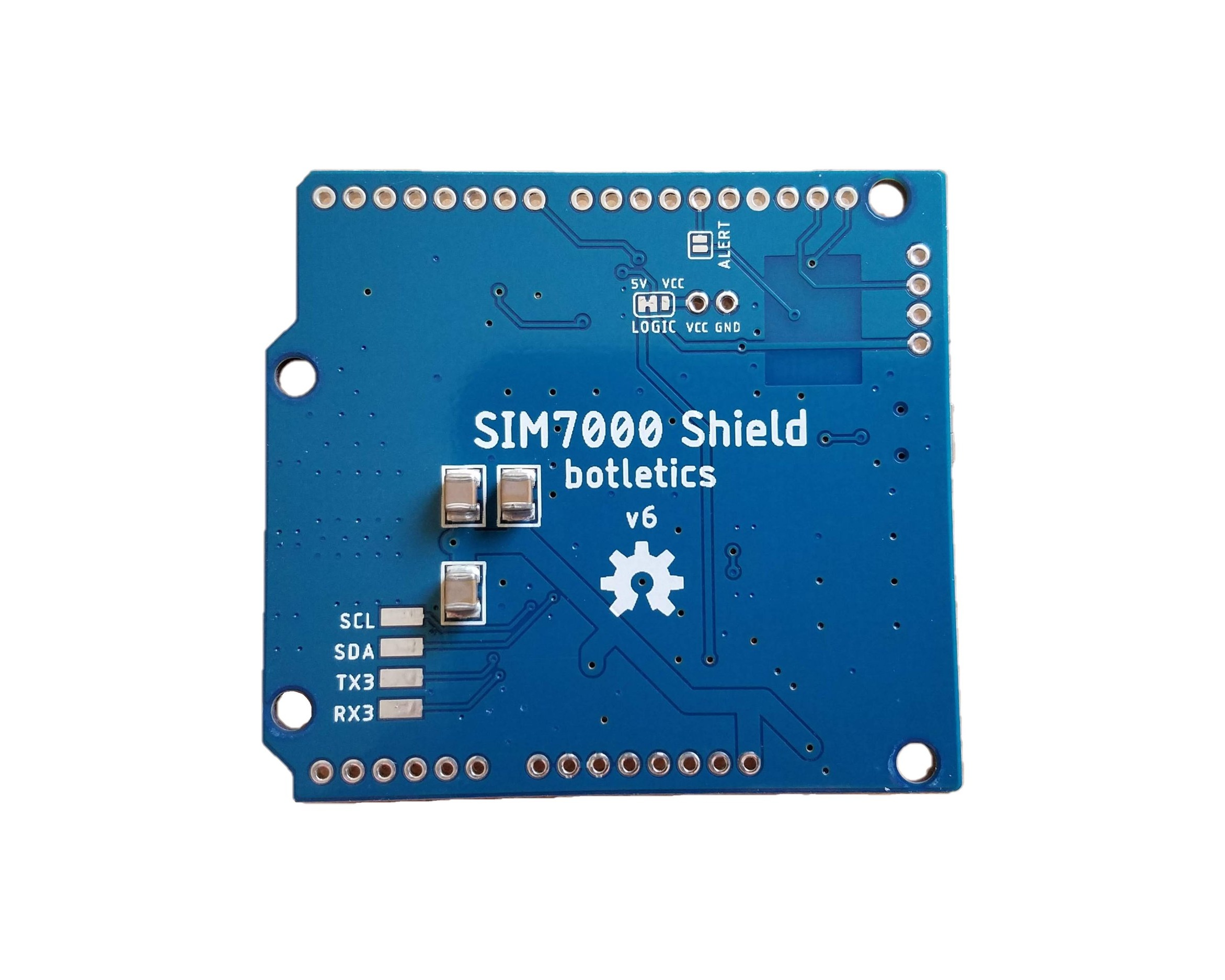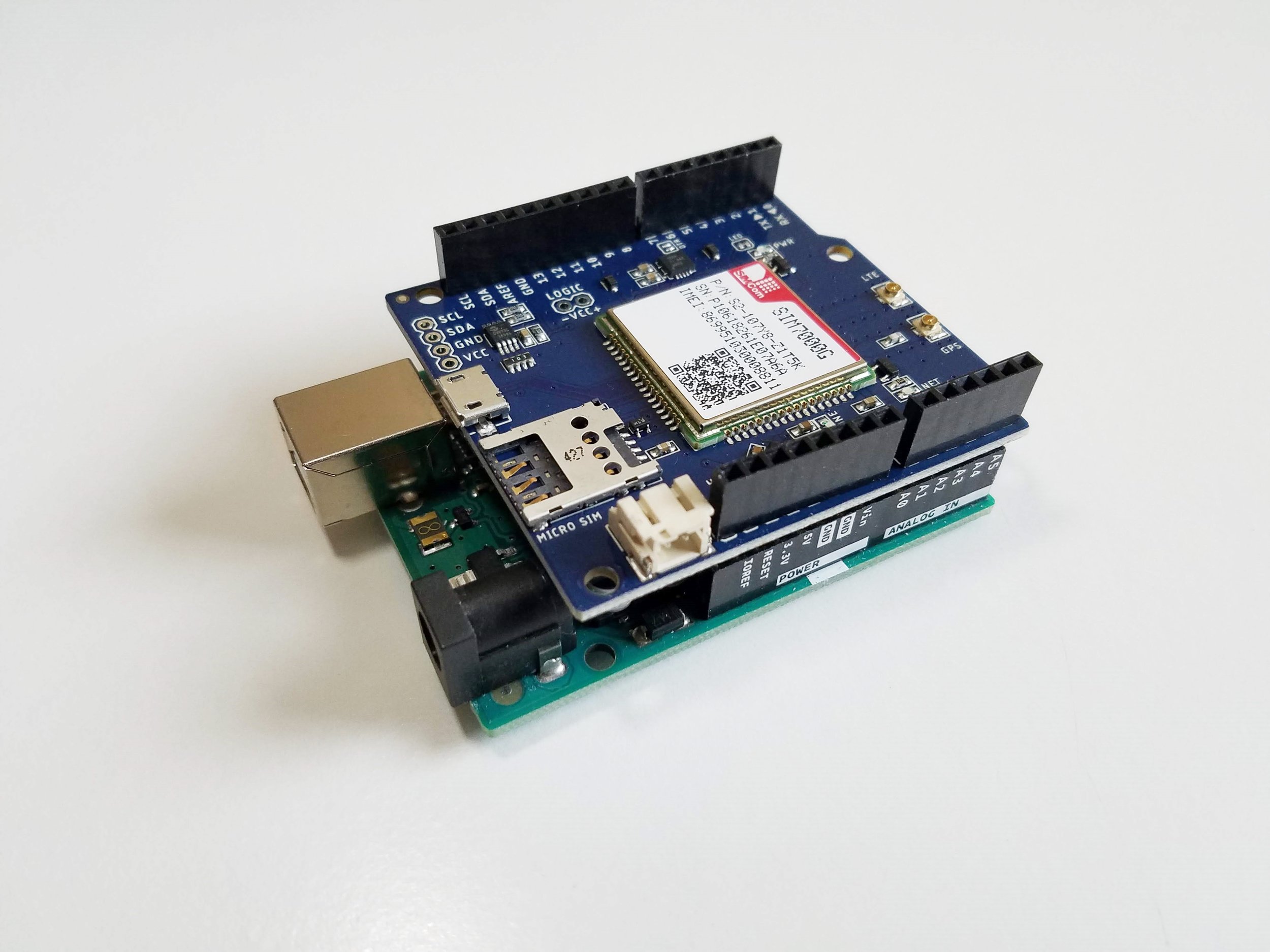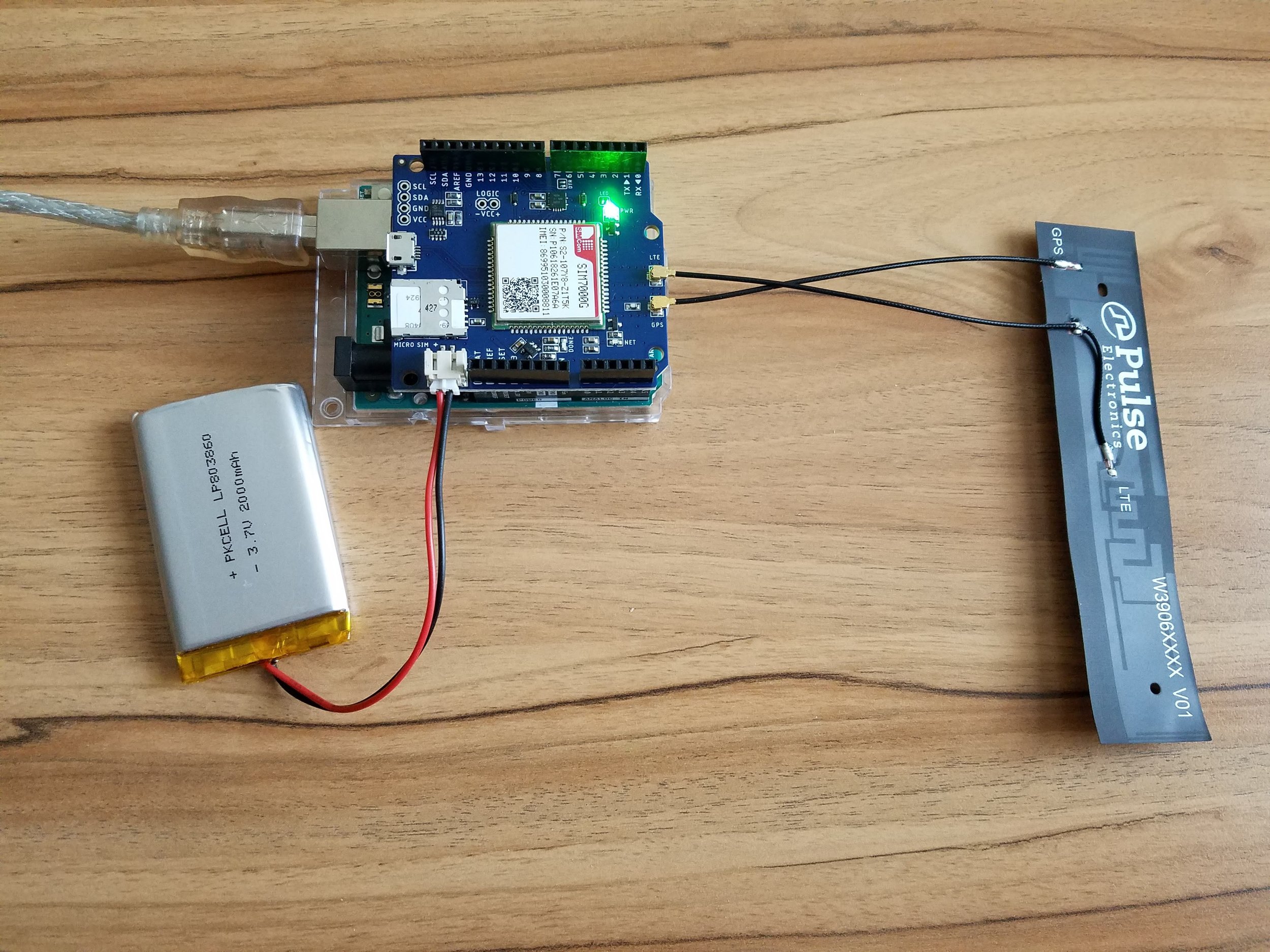 Out of Stock
Botletics™ SIM7000 LTE CAT-M1/NB-IoT + GPS Shield Kit
NOTE: Please order this product on Amazon.com
This powerful cellular shield for Arduino supports the latest cutting-edge LTE CAT-M and NB-IoT technology as well as fast multi-GNSS positioning (GPS). Its ultra-low power consumption is perfect for battery- or solar-powered IoT devices and it's directly compatible with Arduino Uno, Mega, and Leonardo as a shield and can be wired externally to practically any other microcontroller. If you need the bare-bones module please see this product page. Please contact for large orders.
Resources:
Items Included:
SIM7000 shield board (in ESD bag)

Flexible, dual LTE/GPS antenna with uFL connectors and 3M adhesive on the back

Stackable female header kit (these will require soldering)
NOTE: Arduino, USB cable, LiPo battery, and SIM card are not included. A 3.7V LiPo battery (preferably 1000mAH or more, and make sure polarity is correct!) and LTE CAT-M or NB-IoT SIM card are required for proper operation of the shield. The Hologram SIM card works great with this product in the USA and can be purchased separately. However, the Hologram SIM may not connect outside the USA on LTE CAT-M/NB-IoT since many of these networks are relatively new and don't have affiliations with Hologram yet.
Tech Specs
This shield has lots of features, all in a small Arduino-compatible shield! It's great for remote sensors, real-time GPS trackers, cellular-activated IoT devices, and any other low-power cellular projects! Below are some tech specs:
Compatible with Arduino Uno, Arduino Mega, and Arduino Leonardo or practically any 1.8-5V microcontroller like ESP8266, ESP32, and Raspberry Pi if wired externally (see the shield pinouts in this tutorial)

LTE CAT-M1 and NB-IoT support. SIM7000C, SIM7000E, and SIM7000G versions additionally support 2G (GSM/GPRS) and 2.5G (EDGE). Uplink speed up to 375kbps, downlink up to 300kbps

The shield comes in several versions for different regions of the globe (learn how to select a version)

Ultra low power: The shield draws < 8uA on a 3.7V LiPo battery when the modem is turned off (learn more)

On-board LiPo battery charging (from 5V rail)

Supports SMS text messages (see this SMS tutorial)

Supports TCP/IP (including MQTT), PPP, POP3 (Email), and FTP/HTTP/SSL

Integrated multi-GNSS (GPS, GLONASS) capabilities with 2.5m accuracy (see this GPS tracker tutorial)

Built-in electronic file system for saving data onto the module

MCP9808 High-accuracy I2C temperature sensor with 0.25° typical accuracy

Micro USB for debugging and sending AT commands (see this tutorial on how to install Windows drivers)

Extra I2C header for convenience

SIM7000 module power and network status LEDs

Convenient u.FL antenna connectors for added flexibility

The SIM7000 modules are network-certified for various networks (depends on version)

Support for Qualcomm MDM9206 SDK for standalone operation without external microcontroller

There are tons of other features, including DNS parsing, transparent data mode, and network time syncing!
Additional Notes
Network Connection: This shield does not operate on traditional LTE. This means you need to make sure that you have LTE CAT-M1 or NB-IoT for it to operate. To get a better idea of whether or not you have CAT-M1 or NB-IoT coverage in your area please visit this tutorial. However, the SIM7000C and SIM7000E versions also support 2G and 2.5G in case CAT-M1 or NB-IoT is not available.
This kit is for evaluation only and is not FCC approved for resale. It is your responsibility to determine if the shield will work for you and cell coverage or network compatibility in your specific area cannot be guaranteed.
FCC Notice (47 CFR 2.803)
This kit is designed to allow:
(1) Product developers to evaluate electronic components, circuitry, or software associated with the kit to determine whether to incorporate such items in a finished product and
(2) Software developers to write software applications for use with the end product. This kit is not a finished product and when assembled may not be resold or otherwise marketed unless all required FCC equipment authorizations are first obtained. Operation is subject to the condition that this product not cause harmful interference to licensed radio stations and that this product accept harmful interference. Unless the assembled kit is designed to operate under part 15, part 18 or part 95 of this chapter, the operator of the kit must operate under the authority of an FCC license holder or must secure an experimental authorization under part 5 of this chapter.